Aus meinem Posteingang…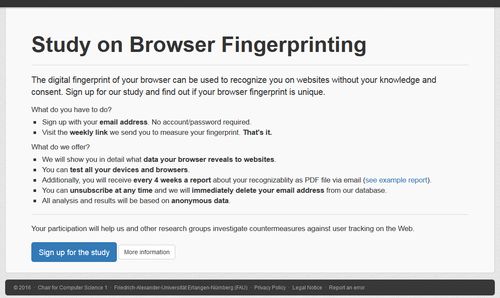 Web Tracking Studie: Teilnehmen
Der digitale Fingerabdruck eines Browsers kann dazu verwendet werden, Benutzer auf Webseiten ohne ihr Wissen oder Einverständnis wieder zu erkennen. Diese Tracking-Methode nennt sich Browser Fingerprinting.
Sie können sich auf unserer Studienwebseite registrieren (Zeitaufwand beträgt 1 Minute pro Woche, kein Benutzerkonto/Passwort nötig) und über einen längeren Zeitraum testen, ob sie einzigartige Spuren hinterlassen, wenn sie im Web surfen:
https://browser-fingerprint.cs.fau.de
Darüber hinaus erhalten Sie alle 4 Wochen einen Bericht über Ihre bisherige Teilnahme als PDF-Datei per E-Mail zugesandt. Dieser Bericht enthält die Dauer der Wiedererkennbarkeit sowie vergleichende Werte zu anderen Teilnehmern. Eine Abmeldung von der Studie ist jederzeit möglich.
Wir würden es sehr begrüßen, wenn Sie Ihre privaten und beruflichen Kontakte auf diese Studie hinweisen könnten: Freunde, Verwandte, Studenten, Kollegen, Mailing-Listen, Foren usw.
Web Tracking Study: Participate
The digital fingerprint of a browser can be used to recognize users on websites without their knowledge or consent. This technique is called browser fingerprinting.
If you sign up for participation (time required is 1 minute per week, no account/password needed), you can test over a longer period of time if you leave unique traces when surfing the Web:
https://browser-fingerprint.cs.fau.de
Furthermore, every 4 weeks participants receive a report as PDF file about the duration of their recognition and comparative values to other participants. You can unsubscribe at any time.
We would also highly appreciate if you distribute this call to your private and professional contacts: friends, relatives, students, colleagues, mailing lists, web forums and so on. If you sign up for participation, you can also use our privacy-preserving social media buttons (Facebook, Twitter) with predefined announcement text.
Mehr Infos: Details for researchers and all the others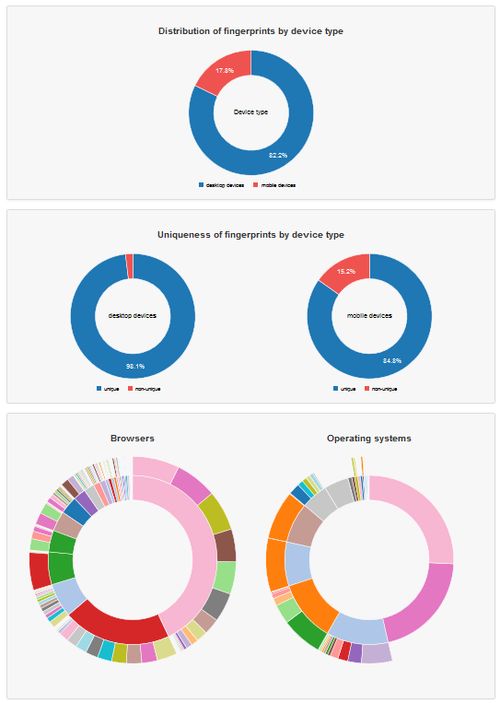 Here are the preliminary study statistics:
https://browser-fingerprint.cs.fau.de/statistics
We are going to release an open data set of fingerprints. Till now, everybody doing research on countermeasures to browser fingerprinting has to collect their own data sets, and this is extremely time-consuming.
Our data set will be especially useful for research, because through our study design we have an unprecedented level of ground truth: We can assign each fingerprint to a particular (of course, anonymized) participant. In all other projects, recurring participants are recognized through cookies, which is quite error-prone, as people delete their cookies.
Moreover, participants voluntarily fill in a small demographic survey (this data will not be released in the open data set), such that we can assess the representativeness of our study for the Internet users worldwide.
Info und Kontakt
Zinaida Benenson
Human Factors in Security and Privacy Group
Chair for IT Security Infrastructures
University of Erlangen-Nuremberg
www1.informatik.uni-erlangen.de/staff/zina

Maria