Aus meinem Posteingang…
secUnity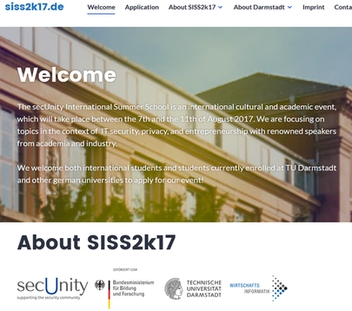 Application: until June 16th, 2017
From August 7-11, 2017, secUnity invites you to its second summer school at Technische Universität Darmstadt. This event is organized by the Chair for Software Business and Information Management  and will focus on research topics related to economic and interdisciplinary approaches to IT security and privacy.
The secUnity International Summer School on Economics of IT Security and Privacy provides an opportunity to advanced Bachelor, Master and PhD students as well as young scholars to learn more about IT security and privacy in general as well as in relation to business models and legal aspects. The event will be a mix of lectures and hands-on exercises, allowing the students to learn how to design a business model in the context of IT security and privacy which will be reviewed at the end of the event. Furthermore, we offer a multifaceted program covering theoretical and practical aspects in the lectures.
Topics covered during the summer school include (among others):
IT Security Management
Ethical Hacking and National Security
IT Security Research
Entrepreneurship and E-Business
Legal Aspects of IT Security and Privacy
…
The registration fee for the summer school is free for students and 500,- EUR for industry participants. This fee includes daily refreshments, lunch, and social events.
Mehr Infos: https://siss2k17.de

Maria