TechEES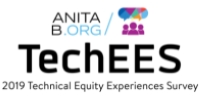 In keeping with our focus on promoting the equity and well-being of all technical employees, we invite you to participate in the Technical Equity Experience Survey (TechEEs). Your answers to questions about gender, pay equity, and empowerment will help us track progress towards tech equity and our goal of reaching 50/50 by 2025. Please share the survey with your coworkers, employees, and professional networks! Nontechnical employees are encouraged to participate, as a means for comparison to the technical workforce.
Survey: https://t.e2ma.net/click/ufj95c/mpx8zi/qcmqpq
Community worldwide
AnitaB.org Locals host meetups, workshops, networking events, and more. See what's happening near you.
Events: https://community.anitab.org/events

Maria