Aus meinem Posteingang…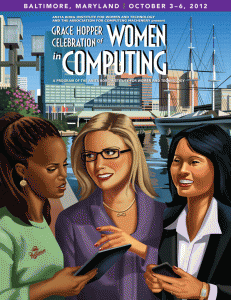 GHC (Grace Hopper Celebration of Women in Computer Science9 is one of the largest gatherings of women in computer science in the world, bringing together industry technical women, students, academic faculty, K-12 computer science teachers, and senior level executives together in one venue. The conference is proven to retain, advance, and inspire technical women by connecting them to role models, mentors, peers, and the knowledge they need to succeed.
Date: October 3 – 6, 2012
Location: Baltimore Convention Center in Baltimore, Maryland
Theme: "Are We There Yet?"
We invite you to participate as a Gold, Silver, or Bronze Academic sponsor. You will be able to:
Expand the visibility of your computer science department(s)
Showcase your school as a strong proponent of STEM diversity
Recruit students and faculty during the Career Fair for graduate programs, and job positions
Send a message to all conference attendees that your school supports and is committed to the success of technical women
Register students for the conference at a discounted rate
Pricing and other details are posted online:
We also encourage students to apply for scholarships to attend GHC. Applications are now open. For more information: http://gracehopper.org/2012/participate/scholarships/
Anita Borg Institute has created a set of awards to honor distinguished women in technology. The deadline for nominations has been extended to May 15. Please nominate a deserving team or candidate, or forward this information to someone who might be interested.
Anita Borg Social Impact Award: Honors an individual or team who has caused technology to have a positive impact on the lives of women and society, or who have caused women to have a significant impact on the design and use of technology.
Anita Borg Technical Leadership Award: Recognizes and celebrates an outstanding woman technical leader.
Denice Denton Emerging Leader Award: Recognizes a tenure-track faculty member who is pursuing high quality research while promoting diversity.
A. Richard Newton Educator Award: Recognizes teaching practices, techniques or innovative and new education approaches that attract girls and women to math, computing, and engineering.
Anita Borg Change Agent Awards: Celebrate the accomplishments of technical women from, and who work in, developing countries.
Mehr Infos findet Ihr auf der Website: http://gracehopper.org/2012/

Maria