Aus meinem Posteingang…
"Dear Women in Informatics from Germany,
I would like to share with you information about the Anita's Quilt website (anitasquilt.org), which shares inspiring stories told by women in Computer Science. Till now, this website is known among women located in USA, however, would be great to hear some stories from women located in Germany and share existing stories with you.
If you are interested, please visit the website or follow us on Twitter (@AnitasQuilt).
Best Regards,
Ilona"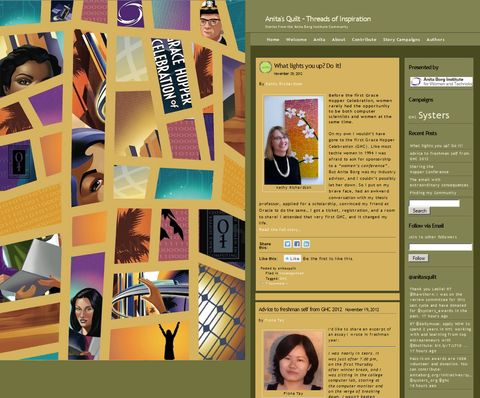 Ein paar Hintergrundinfos zur Website
(Aus Vorweihnachtszeitknappheit einfach mal im Originalton.)
About "Anita's Quilt – Threads of Inspiration"
Anita introduced me to an amazing group of Technical Women. Some I met at her women's parties with dancing and hot tubbing until dawn; some as her side-kick at early Grace Hopper Celebrations, and some that she brought together for the Institute. She always handed me an amazing amount of responsibility, and inspired me to work outside my comfort zone. Every day I continued to be awed and inspired by these women in technology. This project attempts to endow all of us with that sense of awe and inspiration. (Kathy J. Richardson, September 2012)
Kathy Richardson
Before the first Grace Hopper Celebration, women rarely had the opportunity to be both computer scientists and women at the same time.
On my own I wouldn't have gone to the first Grace Hopper Celebration (GHC). Like most techie women in 1994 I was afraid to ask for sponsorship to a "women's conference". But Anita Borg was my industry advisor, and I couldn't possibly let her down. So I put on my brave face, had an awkward conversation with my thesis professor, applied for a scholarship, convinced my friend at Oracle to do the same… I got a ticket, registration, and a room to share! I attended that very first GHC, and it changed my life. (Kathy J. Richardson, November 2012)

Maria