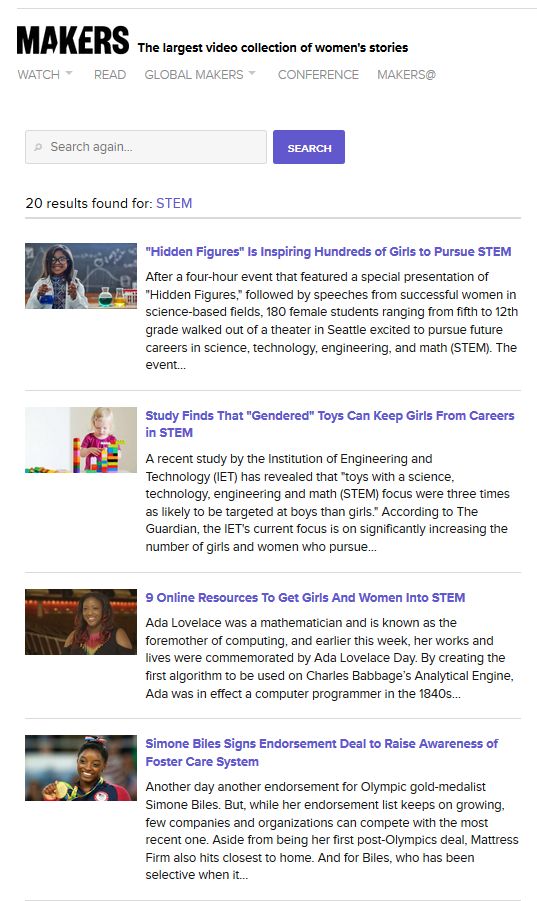 Über eine paar coole Ladys beim Urban Gardening bin ich auf Makers aufmerksam geworden.
Die amerikanische Site erzählt von Frauen, die Großes geleistet haben. Darunter auch ein Beitrag, der sich mit dem Film "Hidden Figures" und seinen Auswirkungen beschäftigt: www.makers.com/blog/hidden-figures-inspiring-girls-stem
Hier noch ein paar Fakten… (sorry, in English).
Frei nach dem Text auf der Website:
Launched in 2012, AOL's MAKERS is a storytelling platform for the trailblazing women of today and tomorrow. Today, MAKERS.com features more than 4,500 original videos and more than 400 MAKERS interviews. Our MAKERS include well-known figures such as actress Lena Dunham, media mogul Oprah Winfrey, show runner Shonda Rhimes, YouTube sensation Lilly Singh, Supreme Court Justice Ruth Bader Ginsburg, tennis champion Billie Jean King, as well as groundbreaking women such as the NBA's first female referee Violet Palmer and Kathrine Switzer, the first woman to run the Boston Marathon.
In 2016, MAKERS executive produced the song "This Is For My Girls" in partnership with First Lady Michelle Obama's Let Girls Learn and #62MillionGirls initiative. "This Is For My Girls," is written by Diane Warren and as song it hit No. 1 on Billboard.
Great women in STEM: www.makers.com/search?s=STEM
(STEM = MINT)
EVENTS & PROGRAMS
MAKERS Conference
MAKERS has hosted two MAKERS Conferences, positioned as 36-hour action plans on women in the workforce. More information: www.makers.com/conference.
MAKERS@
MAKERS@ is an invitation-only partnership opportunity intended for companies to celebrate and acknowledge their game-changing female employees and connect them to the larger MAKERS network. More information: http://www.makers.com/makers-at

Maria