Aus meinem Posteingang…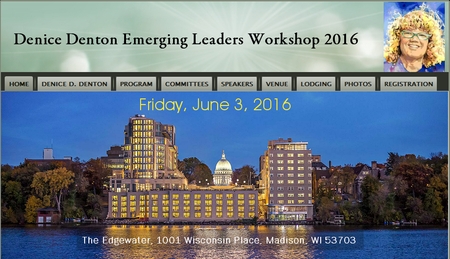 Fokus und Zielgruppe
The Denice Denton Emerging Leaders Workshop 2016 will focus on the development of knowledge, skills, strategies, and critical networks for mid career faculty in the fields of engineering, computing, mathematical and physical sciences, who are assistant or associate professors with 4-15 years of experience in tenure-line faculty positions.
The workshop's intended outcomes are the support and further development of a new generation of academic women and men prepared and energized to be leaders, mentors and coaches, and to contribute to transforming the climate to enable success for those in science and engineering independent of race, ethnicity, gender, gender identity and expression, sexual orientation, country of origin, and other dimensions of diversity.
Workshop
Inspired by the work and legacies of Denice D. Denton, the recipients of the Denice Denton Emerging Leader ABIE Award, named in her honor, have organized a faculty development workshop in Madison, Wisconsin.
Workshop participants will benefit from learning from their more senior colleagues, as well as from working with their peers and near-peers to develop strategies for success, and will design individual leadership plans.
The workshop also seeks to develop strong cross-institutional academic peer networks, particularly important for women and underrepresented minority faculty members.
Termine
Leaders Workshop: Fr. 3. Jun. 2016
Anmeldeschluss: 20. Mai 2016 (registration closes at midnight)
Denice Denton Emerging Leaders ABIE Award
The award honors the life and career of Professor Denice Denton (1959 – 2006), a woman engineering faculty member and the first female dean of a school of engineering in a major US research university. She worked throughout her life to give minorities a voice and to make engineering attractive to women and minorities, strongly promoted diversity in higher education, and helped many people break barriers and find their path in life.
Mehr Infos
http://ddd.umd.edu/home

Maria