Aus meinem Posteingang…
Winners 2019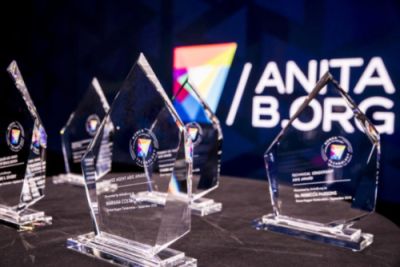 Our AnitaB.org Abie Awards honor distinguished women technologists, whose achievements and life stories demonstrate that we all have the power to improve our world, individually and collectively.
Meet all of our incredible 2019 winners:
https://t.e2ma.net/click/qof5tc/mpx8zi/ii560p
Dr. Fei-Fei Li – Technical Leadership Abie Award
An unprecedented thought leader in AI through her revolutionary computer vision research, Fei-Fei has had transformational industry impact democratizing AI, pioneering future technological innovations, and advocating diversity in STEM and AI internationally. She is the Professor and Director of Stanford University's Stanford Human-Centered AI Institute, and is the lead inventor of ImageNet. ImageNet, a collection of 15 million precisely labeled photographs organized into 22,000 categories, advanced machine vision through intensive exposure to the visual world.
Read more: ghc.anitab.org/2019-speakers-honorees/2019-honorees/fei-fei-li
Jhillika Kumar – Student of Vision Abie Award
When Jhillika's parents brought home an iPad for the first time, they could not have predicted how much it would improve their family's lives. Accessible technology, for the first time ever, allowed her autistic and nonverbal brother to enjoy his passion for music. Knowing the impact that UX Design could make on someone who once couldn't communicate, Jhillika decided to pursue a focus in computer science and interaction design at Georgia Tech. Her current initiative is an on-campus organization she founded called AxisAbility. In order to augment the capabilities of individuals with Autism Spectrum Disorder, AxisAbility is creating a virtual platform, to understand family needs and match them with the technology engineered to directly generate physiological changes in the brain to improve cognitive function.
Read more: ghc.anitab.org/2019-speakers-honorees/2019-honorees/jhillika-kumar
Dr. Natalya Bailey – Emerging Technologist Abie Award
Natalya is considered one of the top leaders in the emerging field of small satellite propulsion. Natalya worked with her Co-founder to invent a new form of propulsion engine that made use of a liquid ion propulsion technology for small satellites that is safer to handle, cheaper to produce, and smaller in terms of mass and volume while she earned her doctorate in space propulsion at MIT in 2014. In 2017, Natalya introduced a diversity program for hiring women and minorities that have been underrepresented in the industry.
Read more: ghc.anitab.org/2019-speakers-honorees/2019-honorees/natalya-bailey
Dr. Nimmi Ramanujam – Social Impact Abie Award
Nimmi's research on women's cancers focuses on designing innovations that enable complex services to be accessible at the primary care level for cancer prevention. Her research also helps with the development of tools that will make cancer treatment more effective and efficient. She and her team developed the Pocket Colposcope, which has the potential to revolutionize cervical cancer screening in low resource communities by enhancing the effectiveness and scalability of the screening process, reducing loss to follow up and guiding effective treatment decisions.
Read more: ghc.anitab.org/2019-speakers-honorees/2019-honorees/nimmi-ramanujam
Yamilée Toussaint Beach – Educational Innovation Abie Award in Honor of A. Richard Newton
Yamilée harnesses the power of dance to inspire and support young women of color from low-income backgrounds to develop the confidence, skills, and awareness necessary to obtain STEM degrees. She launched the organization in 2012, using seed funding won from Teach For America's Social Innovation Award. Since then, SFD has partnered with over 25 schools and community centers, serving over 400 girls.
Read more: ghc.anitab.org/2019-speakers-honorees/2019-honorees/yamilee-toussaint-beach
Mehr Infos
anitab.org/awards-grants/abie-awards
ghc.anitab.org/news/announcements/2019-abie-award-winners

Maria