Aus meinem Posteingang…
We'd like to know what you think
"No computer is ever going to ask a new, reasonable question. It takes trained people to do that." – Grace Hopper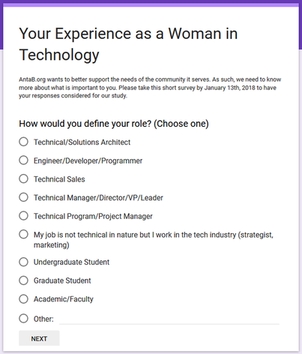 What do you value most as a woman in tech? What resources or tools could help you to advance your career and connect with others to build your technical skills? We'd like you to tell us more about your experience and needs as a woman in tech by completing a short survey. And male allies, we didn't forget about you — we want to hear your thoughts, too.
Take the survey now:
Your responses will be confidential – and not made public or shared outside of this research study with AnitaB.org.
Thank you for your time and participation. Stay connected with us on Facebook and Twitter to catch the latest news and updates from AnitaB.org and the Grace Hopper Celebration!
Sincerely,
The AnitaB.org Team
Links:
Women in Tech: https://t.e2ma.net/click/asrknb/mpx8zi/ac7t8m
Male Allies: https://t.e2ma.net/click/asrknb/mpx8zi/q47t8m

Maria