Aus meinem Posteingang…
Get Ready for GHC 19!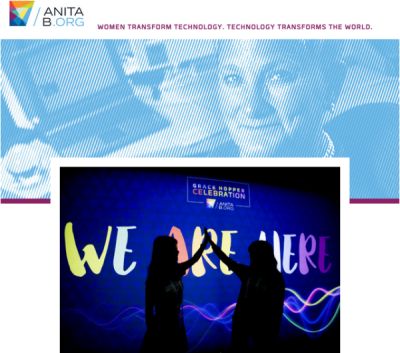 January 16 we open the Grace Hopper Celebration (GHC 19) Call for Participation, applications for GHC 19 Scholarships, and submissions for the Poster Session. Information about these opportunities: https://ghc.anitab.org
Submission forms open on January 16 at 9 a.m. PT.
GHC 19 will be Oct. 2–4 in Orlando, USA.
We Need GHC 19 Volunteers
Help review thousands of applications and allow us to create a robust schedule, send scholars to GHC, and create unique programming.
GHC 19 Committees: https://ghc.anitab.org/2019-connect
Abie Award Nomination
https://anitab.org/awards-grants/abie-awards
Submit a nomination. At AnitaB.org, we celebrate and highlight the success of women technologists and those who support women in tech. Our Abie Award winners are honored at GHC. Each winner receives a cash prize, an opportunity to speak at GHC, and an expenses-paid trip to GHC.
Technical Leadership Abie Award
This award is our most prestigious award and celebrates a woman who led or developed a product, process, or innovation that made a notable impact on business or society.
Student of Vision Abie Award
… honors young women dedicated to creating a future where the people who imagine and build technology mirror the people and societies for which they build.
Emerging Technologist Abie Award
… recognizes an inspiring woman in the first 10 years of her technology career.
Educational Innovation Abie Award in Honor of A. Richard Newton
… recognizes educators for developing innovative teaching practices and approaches that attract girls and women to computing, engineering, and math in K-12 or undergraduate education.
Social Impact Abie Award
… recognizes those making a positive impact on women, technolog, and society. Nominees may have developed technology that caused social change or empowered women and increased their influence.
Systers PIO Awards
The Systers Pass It On Awards:
https://anitab.org/awards-grants/pass-it-on-awards-program
Systers PIO honor Anita Borg's desire to create a network of women technologists helping each other. The cash award helps fund women in computing or projects that inspire and support girls and women to enter computing. We encourage recipients to "pass on" the benefits they gain from the award, creating a movement of women helping women.
Previous winners:
https://anitab.org/profiles/pio-award-recipients
Apply for a Pass It On Award:
https://systers.submittable.com/submit/76301/systers-pass-it-on-awards
Inspiring the Next Generation of Talent

TMCF and Apple believe creating a diverse and inclusive workplace is the best way to attract great talent, inspire great ideas, and do great work. That's why they've partnered to create the HBCU Initiative aimed at inspiring young innovators and expanding the technical talent pool at Historically Black Colleges and Universities (HBCUs).
Learn more about the scholarship and internship opportunity:
www.tmcf.org/our-programs/career-preparation/apple-tmcf-hbcu-initiative
Maria