Aus meinem Posteingang…
Diese Konferenzankündigung möchte ich gern teilen: Tech-Profis, Forschende und Wissenschaftler:innen können sich hier zur Zukunft austauschen.
Wer hinfährt, darf gern hier darüber berichten :-)
Alle Infos unter https://saiconference.com/FTC
Zukunft schaffen: November an der Westküste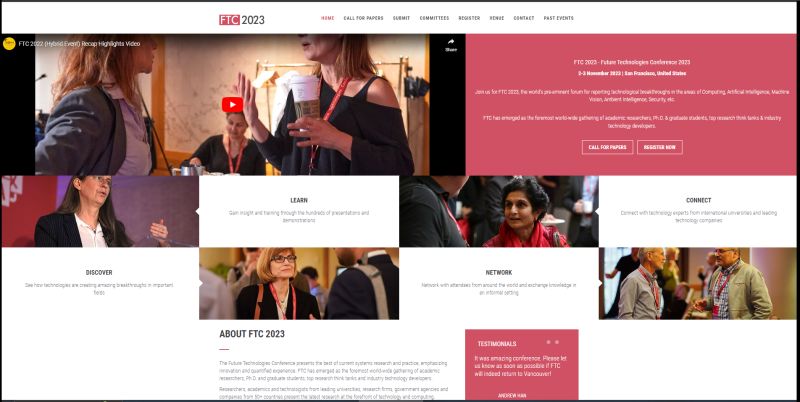 Dear Colleague,
We'd like to invite you to submit your papers/posters for the Future Technologies Conference (FTC) 2023 to be held on November 2 – 3, 2023 in San Francisco, United States (Venue is Hyatt Centric Fisherman's Wharf).
FTC is a prestigious conference that attracts researchers, scientists, and technologists from some of the top companies, universities, research firms, and government agencies from around the world. The conference program will include paper presentations, keynote speakers, industrial workshops, roundtable discussions, and networking sessions.
All accepted papers will be published in the Springer series "Lecture Notes in Networks and Systems" and submitted for consideration to Web of Science, SCOPUS, INSPEC, WTI Frankfurt eG, zbMATH, and SCImago.
To submit your paper, please use the online submission system at https://saiconference.com/FTC2023/Submit.
Important dates to remember are as follows:
Paper Submission Due: April 1, 2023
Acceptance Notification: May 1, 2023
Camera Ready Submission: June 1, 2023
Conference Dates: November 2-3, 2023
For more details, please visit the conference website at https://saiconference.com/FTC.
We hope that you will consider submitting your papers to FTC 2023 and encourage your colleagues, research group members, and fellow scientists to contribute and participate as well.
If you have any questions, please do not hesitate to contact us.
Sincerely,
Kohei Arai
Program Chair, Future Technologies Conference – FTC

 Maria