Aus meinem Posteingang…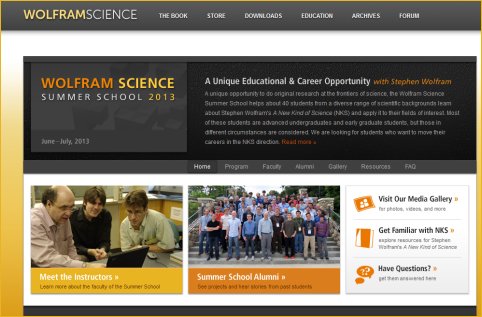 We are pleased to announce the 11th annual Wolfram Science Summer School (formerly the NKS Summer School) and would like to invite you to apply to the three-week, tuition-free summer program, to be held in Boston, Massachusetts. The Wolfram Science Summer School is hosted by Wolfram Research, makers of Mathematica and the computational knowledge engine Wolfram|Alpha, and Stephen Wolfram, world-renowned author of A New Kind of Science (NKS): www.wolframscience.com/summerschool
We are looking for highly motivated individuals who want to get involved with original research at the frontiers of science. Our participants come from many diverse backgrounds, but share a common passion to discover and explore cutting-edge ideas. Over the past 10 years, they have included graduate students, undergraduates, professors, industry professionals, artists, and even a few exceptional high school students.
If accepted to the Summer School, you will work directly with others in the Wolfram Science community, including Stephen Wolfram and a staff of instructors who have made significant contributions to NKS and Wolfram|Alpha. You will develop your own original project that could become the foundation of published papers or your thesis.
Take a look at the lecture notes from previous years to get a sense of what topics will be covered: www.wolframscience.com/summerschool/resources
If you're serious about getting involved with innovative ideas at the core of Wolfram Science and NKS, you should consider applying as soon as possible.
Apply online at:
www.wolframscience.com/summerschool/application.cgi
Todd Rowland, PhD
Wolfram Science Summer School Academic Director
Catherine Boucher, PhD
Wolfram Science Summer School Program Director

Maria