Aus meinem Posteingang…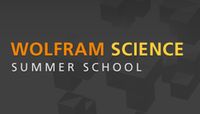 We are pleased to announce that applications are currently being accepted for the 2015 Wolfram summer programs.
The 13th annual Wolfram Science Summer School is a three-week, tuition-free program to be held in Boston, Massachusetts. The Wolfram Science Summer School is hosted by Stephen Wolfram, world-renowned author of A New Kind of Science (NKS), and Wolfram Research, makers of Mathematica and the computational knowledge engine Wolfram|Alpha (both powered by the Wolfram Language).
Deadline: Final deadline for application is May 15, 2015
www.wolframscience.com/summerschool
We are looking for highly motivated individuals who want to get involved with original research at the frontiers of science. Over the past 12 years, our participants have included graduate and undergraduate students, postdocs, industry professionals, and high-octane developers from diverse backgrounds who share a common passion to discover and explore cutting-edge ideas. This year we will have two programs within the Wolfram Science Summer School: one program for pure science and another for technology development.
If accepted to the Summer School, you will work directly with others in the Wolfram community, including Stephen Wolfram and a staff of instructors who have made significant contributions to NKS, Wolfram|Alpha, and the Wolfram Language. You will develop a complete, original project that could become the foundation of future research or development.
Apply online at:
http://www.wolframscience.com/summerschool/application.cgi
The Mathematica Summer Camp will be held for two weeks in July 2015 in Boston, Massachusetts. This program is for advanced high school students ages 16 and 17, though exceptional younger students will be considered. Students will have the opportunity to learn the Wolfram Language used by Mathematica, work with Wolfram mentors, and interact with other students with similar interests. Applicants are expected to have taken advanced courses in mathematics, science, or computer science.
For more information and to apply, please visit:
http://www.mathematica-camp.org
Questions? Please send email to wolfram-education(bei)wolfram(punkt)com

Maria