Aus meinem Posteingang…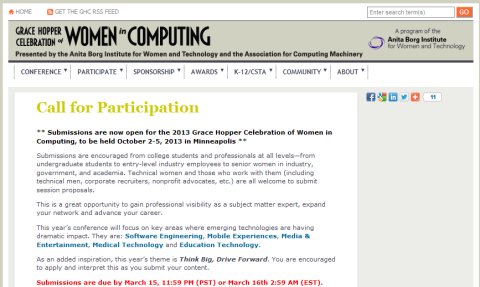 The 2013 Grace Hopper Celebration has opened its Call for Participation. This year's conference will take place October 2-5, 2013, at the Minneapolis Convention Center, Minneapolis, Minnesota.
The Grace Hopper Celebration provides attendees with technical sessions covering a wide range of subjects as well as a rich offering of professional development sessions for attendees at all career levels.
Submissions are sought from areas of technology and professional development. Presenters are encouraged to submit proposals relevant to this year's conference theme, "Think Big, Drive Forward", which asks attendees to look at new trends in technology in the areas of medical technology, media and entertainment, software engineering, education technology, and mobile experiences. These important areas are expanding technology's impact and changing people's lives.
All submissions are due March 15. Full information about submission types, requirements, and process are available at www.gracehopper.org.
Mehr Infos:

Maria